Today (Sunday, 8th March 2015) we celebrate women across the world. Thousands of events are scheduled marking the achievements women have made, economically, politically and socially. But this is also an opportunity to call for greater equality in this year's theme titled #MakeItHappen. Look out for events in your area. You can also check out the
International Women's Day
website to find out more.
We are extremely lucky, in the
Park Slope Fifth Avenue BID
, to have many skilled women running their businesses and organizations. Here are just a few we have visited recently, but we celebrate them all!
Sandra Alfonzo
, owner of
Behind Bars in Brooklyn
. As a certified mechanic, in an industry where women are few, Sandra already has very quickly developed a reputation for being knowledgeable and professional when it comes to bike repairs. She's also a keen cyclist and Spanish speaker.
Tabeel
, owner of
Tabeel's Aromatherapy Gift Shop and Salon
. Tabeel is more than a respected business owner with sought-after salon skills and knowledge of aromatherapy. Her customers come back time and time again because of her warmth and professionalism. After almost 20 years in Park Slope, she participates in all community events and is the heart of the North Slope on #theother5th.
Patti Gilstrap
, co-owner of
Flirt Brooklyn
. If you have been into Flirt's store in the South Slope, you will know what I am talking about. Patti's sewing skills are on display. She effortlessly produces beautiful unique dresses out of gorgeous patterned material. Her skills don't just stop there, she can teach you to sew, whatever your skill level.
Mrs Bisi Ideraabdullah,
founder of
Imani House
. An international woman, Mrs Bisi works hard in Brooklyn and Liberia to bring family support services and youth development programs to those in need. In the recent Ebola outbreak, she worked tirelessly to keep her clinic open in Liberia to provide the much needed services for the local population.
Diana English
, owner of
Diana Kane Boutique
. You can see Diana's jewelry crafting skills in her store and in her online shop. Diana is more than just a savvy business owner, she immerses herself in community affairs as a local resident, parent with children in local schools and part of the larger business community.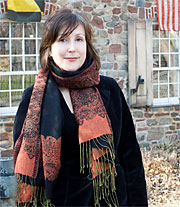 Kim Maier
, Executive Director of the
Old Stone House
. As head of a focal cultural institution for the Park Slope community and local schools, Kim lead the renovation of the Old Stone House and the surrounding park and there's still more to come! She has not only developed strong education and community programming, but is integral to the cultural events and partnerships in the Park Slope area. Kim is a true community leader.
Erika Clark
, Photographer and BID Secretary. If you walk along Fifth on any given day, you will often find Erika viewing the Avenue through her camera lens. She's a professional photographer and we are lucky to have her document BID events on a regular basis (see them on
Flickr
). She is a dedicated community volunteer (BID Board of Directors, 78th Precinct Community Council) and an avid supporter of local businesses.