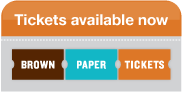 Let's see, are we forgetting anything?
- Restaurants? X CHECK!
- Local Charities? X CHECK!
- Music? X (check out our
DJ
!) CHECK!
- Photo Booth? X CHECK!
- Beer, Wine and Liquor? X (LOTS OF IT) CHECK!
- MS 51 Jazz Band? X (OF COURSE!) CHECK!
The only thing we MAY be missing is YOU! It's time to buy your tickets before it sells out! Ticket Link: [
http://www.brownpapertickets.com/event/1273478
]
A Taste Of Fifth, Wednesday, April 1st, from 6:30 - 9:30pm at The Grand Prospect Hall
Remember, buying a ticket also benefits many of our local charities. Tickets are $55 online ($60 at door) with
$20 of every ticket going to the local charity of your choice!
Participants (In Formation)
200 Fifth
ACME Wine and Spirits
albero dei gelati
Backyard
Benchmark
Beygl
Blue Sky Bakery
Bogota Latin Bistro
Bonnie's Grill
Bricolage
Brooklyn Crepe and Juice
Buttermilk Bakeshop
The Chocolate Room
Coco Roco
Culture
Du Jour Bakery
Fleischer's
Freddy's Bar
Gorilla Coffee
Jake's Handcrafted
La Villa
Le Pain Quotidien
Loki Lounge
Luke's Lobster
The Monro Pub
O Live Brooklyn
Grand Central Oyster Bar Brooklyn
Palo Santo
Prospect Bar and Grill
Pure Bistro
Russo's Mozzarella and Pasta
Sky Ice
South
Stone Park Cafe
Taco Santo
Teaus
Two Boots
Uncle Louie G
Varrio 408
Yayo's Latin Bistro
Participating Charities:
*Imani House
Sponsors: