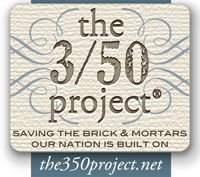 We have mentioned the
350 Project
here a number of times but on this, the beginning of the stretch run till the end of the holiday season, the lessons that the organization is working to publicize about the importance of supporting local businesses is worth repeating.
According to the 350 Project:

If just half the employed U.S. population spent $50 each month in independently owned stores, their purchases would generate $42,629,700,000 in revenue.

For every $100 spent in independently owned stores,$68 returns to the community through taxes, payroll, and other expenditures. In a national chain, only $43 stays here.Spend it online and nothing comes home.
Yes, this means that shopping local is really more of an investment in your local community. It keeps shopping districts vibrant and healthy and that's good for your property values, taxes and even crime rates!
For more about the 350 Project, click
here
.