A Taste of Fifth is just about one month away! Tickets are on-sale now via
Brownpapertickets.com
. Twenty dollars of every $45 ticket sold will be donated to a local non-profit of your choice from the list below:
-5th Avenue Committee (FAC)
-Brooklyn Arts Exchange (BAX)
-Brooklyn Pride
-Dream Factory of Brooklyn
-Good Shepherd
-Middle School 51
-Old Stone House & Washington Park
-Park Slope Civic Council
-President Street Community Garden
WHEN: April 10th, 6:30 PM
WHERE:
The Grand Prospect Hall
WHAT: A sumptuous sampling of delectable food from dozens of Fifth Avenue's great restaurants. Enjoy music, dancing, and complimentary wine & beer.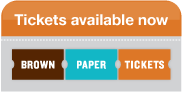 Participants (list in formation):
200 Fifth
Aperitivo Café
Blue Ribbon
Baluchi's
Backyard
Benchmark
Beauty Bar
Bogota Latin Bistro
Caramello
Chip Shop
Coco Roco
Der Kommissar
DuJour Bakery
Has Beans
Kos Kaffe
LaDolce Café & Bakehouse
Leske's Bakery
M & S Prime Meats
Palo Santo
Piramide
Pork Slope (Talde)
Fort Reno
Sidecar
Sky Ice Sweet & Savory Thai
South
Stone Park Café
Yayo's Latin Cuisine